SHENZHEN, China — Feb. 22, 2017 TP-Link®, a leading global provider of consumer and business networking products, has been named one of the winners of the 2017 iF Design Award 2017, one of the world's most celebrated and valued design competitions. Among the 5,575 entries from companies in 59 countries, TP-Link received honors for two products: the AC5400 Wireless Tri-Band MU-MIMO Gigabit Router Archer C5400 and the upcoming HD Day/Night Wi-Fi Cloud Camera KC100. Both products were selected for a such qualities as exceptional aesthetic design and intuitive functionality. Following the announcement, TP-Link and other iF Design Award honorees will attend the formal ceremony on March 10 at the BMW Welt in Munich, Germany.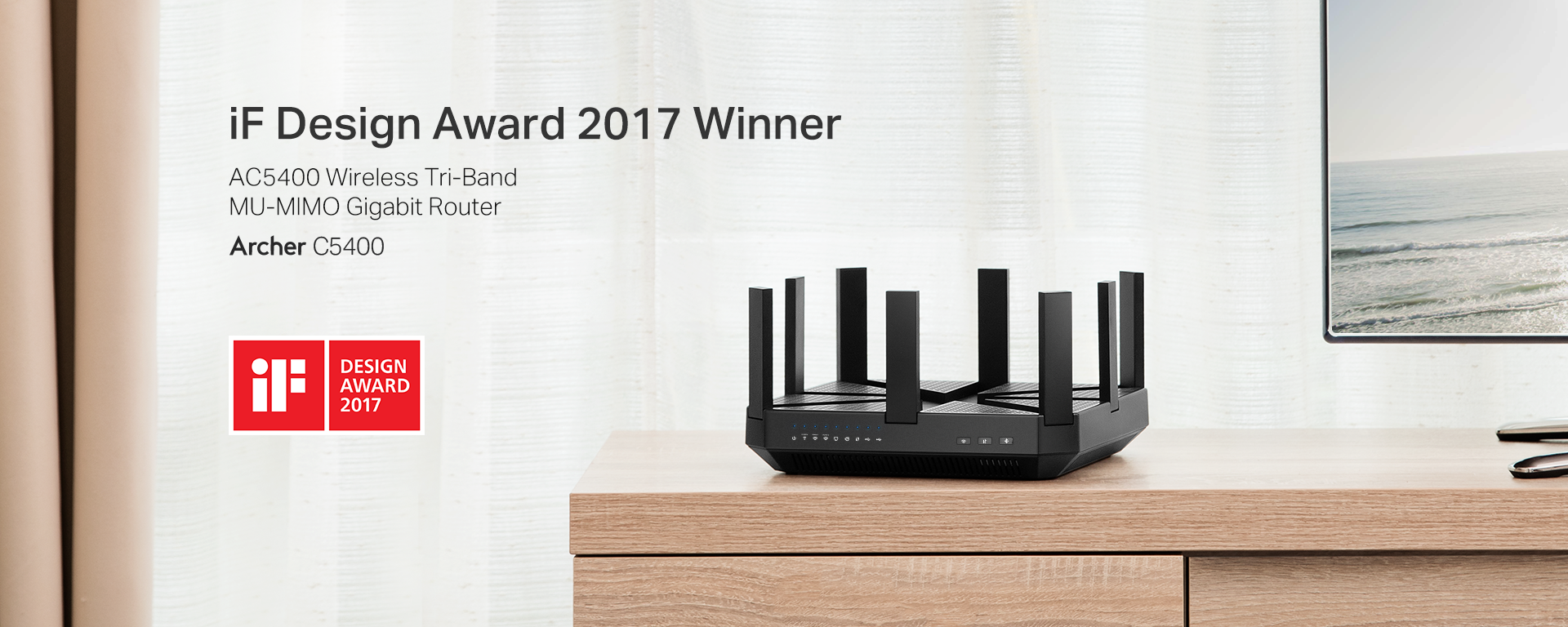 The Archer C5400: An Achievement in Modern Networking
An annual event since 1953, the Hamburg-based iF International Forum Design GmbH analyzes products from every industry to earn the honor of this gold standard of excellence, choosing the Archer C5400 in the Product category. Emphasizing a cutting-edge aesthetic that balances industrial precision and modern minimalism, the Archer C5400 presents a progressive direction for home networking. From its exterior, every detail achieves symmetry from every angle, embodying accuracy and harmony. Eight powerful antennas easily articulate straight up for optimal transmission, and sit flush with the top side of the router when down. Leaving a smaller footprint than other routers of similar performance, its compact, more subtle design allows discreet storage as well as captivating display. Within the home, the Archer C5400 expresses technical prowess within in a simple, subtle design.
A Home Entertainment Powerhouse
Under the hood, the stylistic appeal of the Archer C5400 is complemented with a powerful combination of industry-leading technologies to deliver unprecedented speed and stability. 802.11ac tri-band Wi-Fi delivers speeds of up to 5400 Mbps on one 1000 Mbps 2.4GHz band and two 2167 Mbps 5GHz bands. A variety of groundbreaking features — including 4-Stream, NitroQAMTM, MU-MIMO, Beamforming and Smart Connect — work together to deliver 4K streaming and lag-free gaming to several wireless devices throughout the home, consistently and simultaneously for the ideal high-speed Wi-Fi network that satisfy the needs of the modern family.
"We are humbled to receive two iF Design Awards this year, and we thank the committee for their careful consideration and tireless effort," shares Andy Chen, Director of International Business at TP-Link. "We diligently pursue a vision of giving users simple, intuitive and empowering tools that make today's connected life easier. The Archer C5400 is a shining example of this vision, and we accept this honor to encourage us with renewed passion and drive."
Archer C5400 Key Features
Supports the 802.11ac standard, the latest generation of Wi-Fi, providing combined tri-band wireless speeds of up to 5400 Mbps* over one 2.4GHz (1000 Mbps) and two 5GHz (2167 Mbps) bands
NitroQAMTM Technology boosts speeds by up to 25% on each band
MU-MIMO serves multiple devices simultaneously for up to 3x faster performance
Smart Connect helps devices run faster by intelligently assigning them to the best available Wi-Fi band
Airtime Fairness assigns more time for your faster devices to transfer more data, thus improving the whole network's efficiency and performance
Industry-leading 2-year warranty and 24/7 technical support
1.4GHz dual-core CPU with three co-processors support complex tasks and applications
Eight external antennas with high-powered amplifiers create high-performance Wi-Fi coverage for a large home
Four Gigabit LAN ports deliver up to 1000 Mbps wired speeds to IP camera, desktops, game consoles and TV boxes
A USB2.0 port and 10x faster USB 3.0 port share printers, files, photos, music, and videos across the network
Parental Controls help set time limits and block websites to keep children safe
Guest Network provide visitors with Wi-Fi access separate from your main network
Use the TP-Link Tether app to check network status and adjust Wi-Fi settings from your Android or iOS device
Supports 802.11ac and backwards-compatible with 802.11a/b/g/n
Industry-leading 2-year warranty and 24/7 technical support